Chloe Swarbrick, a member of the Green Party, shut down an older politician who interrupted her speech on climate change.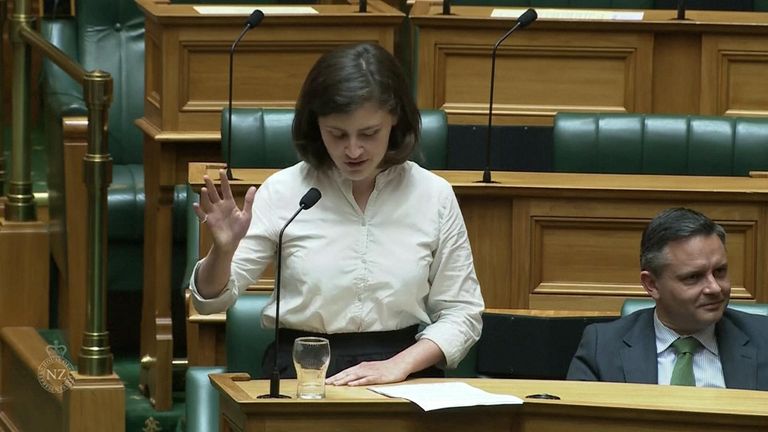 Swarbrick used the viral phrase to shut down an older heckler
A video of a 25-year-old politician in New Zealand, who used the phrase "Okay boomer" to casually swat away an older heckler in parliament, has gone viral.
Chloe Swarbrick, a member of the Green Party, used the popular meme adopted by millennials – widely considered to be aged between 23 and 38 – during a debate about climate change.
he politician was discussing the Zero Carbon bill – which would set a target of zero carbon emissions for the country by 2050 – and claimed the burden of tackling the climate crisis would fall on her generation.
She said: "How many world leaders, for how many decades, have seen and known what is coming, but have decided that it is more politically expedient to keep it behind closed doors?
"My generation and the generations after me do not have that luxury.
"In the year 2050, I will be 56 years old – yet, right now, the average age of this 52nd parliament is 49 years old."
At that point, an older politician – reported to be Todd Muller, the opposition spokesperson for climate change – interrupted her speech, to which she coolly responded with "Okay boomer" – and carried on.
Ms Swarbrick hit back at online criticism, firing back at one user, saying: "I was talking about the generation that comes after us not having the luxury of ignoring this, all the while being met with a barrage of yelling.
"I then spoke about being 56 in 2050, and both Todd and Scott kept yelling. So I responded. Were you in the House?"
This article originally appeared on skynews. It was reposted in the interest of our readers. All rights reserved with the respective owners of the information.
Categories:
News